Lutein

Alias:Marigold extract

Specification:Lutein 5%-95%

Detection Method:HPLC UV

molecular formula:C40H56O2

molecular weight:568.85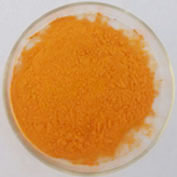 Trait:It is a kind of powder from aurantium to nacarat and has the special smell of marigold. It can be scattered in water, plant oil and hexane.

Detailed information:Feed grade lutein powder is a pure natural feed additive made of saponated lutein resin extracted from marigold and carry.

Application:It is mainly used as feed additive and for dying the epidermis of chicken, fat, shin and egg yolk. It is also used for dying rainbow trout and shrimp and other aquatic products.

Usage:It should be mixed with other things. The suggested quantity: 10-30g lutein in every ton feed. It is 25mg/kg in general and 30mg/kg in summer. If it is added to the feed, the standard is 150-200mg/kg for small chicken, 250-300mg/kg for mature chicken, 50-500 mg/kg for layer and 600-1000 mg/kg yellow croaker. Or you can operate as customer required.

Storage Method:Store it in a cool and dry place.

Shelf life: one year.

Notes:The content of lutein will lost almost half in high temperature season. The high temperature also causes oxidation of lutein and oil, which would lead to the reduction of available lutein in feed. Especially when improving the quantity of lutein in disposing the broiler feed in summer, you should consider improving the nutrient concentration of feed.
---
Feed Grade Paprika Red Pigment
Appearance: It is a kind of red powder. 80% of it can pass through 60 rotating sifting and it is possessed with good dispersibility and mobility. The product can be scattered in water, plant oil, n-hexane and butane.

Description of product:It is a kind of natural feed additive which is made from free red pigment saponitfied by the natural paprika red .

Application: The free red pigmen saponified by the natural paprika redcan lighten the skin of poultry and yolk. It can also  glorify the color of dorking skin, fish and shell.


Usage: Mix with other material firstly.

Usage amount: 1.5kg-3kg in per ton feed or add it as customer required.

Notes:Natural pigment and non-toxic.

Package:1kg、20kg、25kg aluminium foil bag, or pack as customer required.
.
Storage method:Store it in a cool and dry place.

Shelf life: 18 months.